Through the valleys.


On top of the world.
Oamaru's incredible offering of activities ranges from the sublime to the… even more sublime. The one thing you won't have enough of is time. 
Bordered by the stunning coastline of the Pacific, Oamaru offers nature lovers the chance to explore nesting colonies of little blue penguins, yellow-eyed penguins and rare seabirds. For culture lovers the famed limestone architecture houses the cool and quirky world of steampunk and plenty of fashion, art and cuisine discoveries.  New Zealand's best-preserved example of a Victorian streetscape is both utterly unique and altogether captivating.
Whatever you do, don't rush your visit to Oamaru. Leave time for beach walks and bike rides, or craft beers and cafés, and experience the joys of one of New Zealand's most surprising little towns.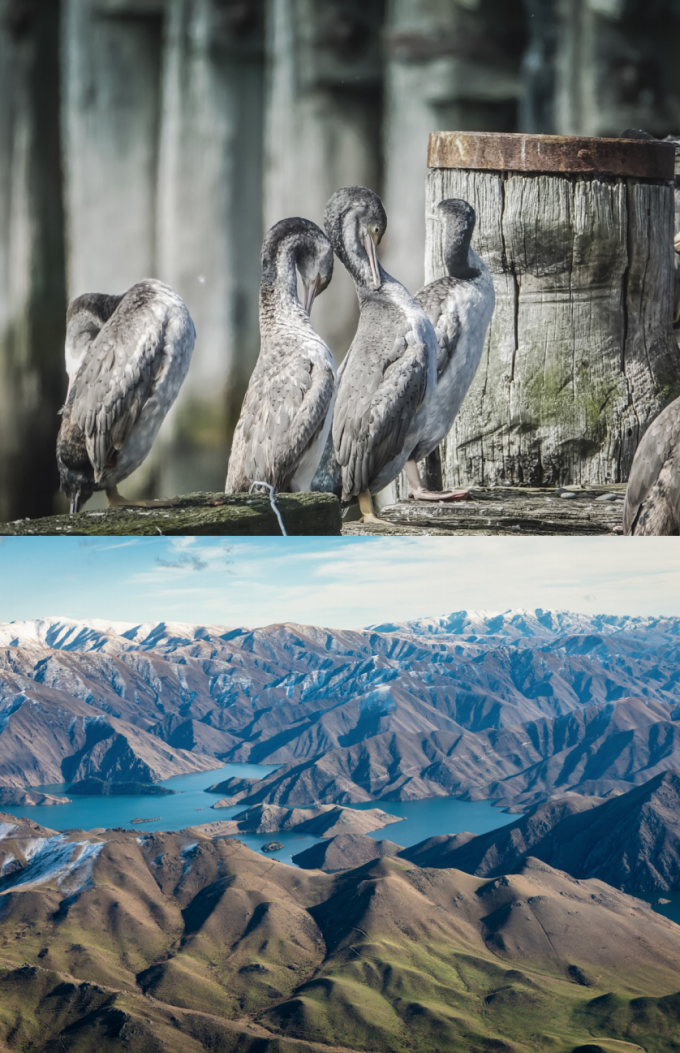 The Waitaki is a massive district with only slightly more than 20,000 inhabitants, so our landscapes are largely wild and unspoilt. Furthermore, our unique geology has led our region to be designated an aspiring UNESCO Global Geopark, meaning that there are internationally significant sites dotted throughout the area--more than 100, in fact. We are also known for our colonies of penguins and other seabirds, including two species of penguin. You might not have time to visit all of them, but you should certainly find time to visit some of the following (and to make this a bit easier, our bespoke Nature and Wildlife Package might be of interest).
As the "coolest town in New Zealand" (according to Lonely Planet), Oamaru has a wealth of things to do that cannot be found anywhere else in New Zealand--and possibly the world! So be sure to allocate some time to wander our lovely small town, there is sure to be something to entice, including some of these. (Many of these are included in our bespoke "Best of Oamaru and the Waitaki" Package.)
As a region famed for many of its agricultural products, it's no wonder that many people come to Oamaru and the Waitaki just to sample our fine foods. In addition to enjoying a locavore meal at Pen-y-bryn, you might wish to sample some of the following activities that are sure to titillate your taste buds.
The mighty Waitaki River provides a number of sporting and adventure opportunities, including some of the country's best trout and salmon fishing and even jetboating. For landlubbers, there are numerous golf courses in the area, along with tennis, bowls and rock climbing opportunities. And don't forget New Zealand's longest (and, it can be argued, best) cycle trail wends its way through the Waitaki Valley, culminating in its terminus at the Oamaru Harbour. If you haven't the time (or legs) for its full 312-kilometre length, you might be interested in one of our "taster" rides.
In addition to the active pursuits, Pen-y-bryn is meant to be a place where our guests can relax. To help out in that endeavour, we have teamed up with a number of Oamaru-based massage and reflexology therapists to provide a range of treatments, some of which can even be offered on the lodge's premises.
To help make your visit with us even more care-free, we have brought together several of our popular activities and excursions, as well as stays with some nearby associated properties, into one-step packages that you can book in one go. All of these can be further tailored to suit your particular preferences, so if you don't see the exact package you'd like, just contact us!