Our Granola Recipe
January 10, 2021
Here is the second of our recipe posts, and it's another one that we get asked for a lot, our breakfast granola. Granola is one of the cereal-type items that we always have on offer on our breakfast table, and it's a perennial favourite. The recipe is an amalgam of several recipes that we tried over the years, and long predates our purchasing Pen-y-bryn. Like the recipe for the dried-fruit compote that we posted earlier, this one is also flexible–you can use whatever mix of nuts, seeds and oats you like, as long as the proportion of "bits" to "goo" is the same.
Pen-y-bryn's Granola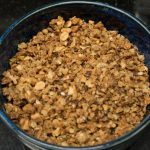 An eminently flexible version of granola, made with a mixture of oats, flour, seeds and coconut, combined with spices, brown sugar and butter. Feel free to adjust the ingredients to your taste.
225 grams rolled oats
115 grams whole wheat flour
60 grams coconut flakes or threads (unsweetened)
60 grams flaxseeds (aka linseeds)
200 grams mixed nuts (coarsely chopped)
200 grams brown sugar
115 grams unsalted butter
80 mls water
½ teaspoon salt
1 teaspoon vanilla extract
½ teaspoon ground cinnamon
½ teaspoon ground cardamon
Heat your oven to 135C (275F). In a large bowl, combine the oats, flour, coconut, seeds and nuts and set aside.

In a saucepan, combine the brown sugar, butter and water and place over medium heat until the butter has melted and the mixture is bubbly. Stir until smooth, then add the salt, vanilla and spices. Pour this over the dry ingredients in the bowl and stir well to coat. Let stand for 10 minutes to let the mixture soak together.

Spread the mixture on a large baking sheet, and bake until the top is golden brown, about 15 minutes. Remove from the oven and break up some of the clumps and expose more of the surface and bake for a further 15 minutes. Remove again and break up the clumps one more time and bake for a further 15 minutes. The granola should be a uniform golden brown and be completely dry. Adjust your baking time as needed to make sure it's dry and golden.

Cool completely before storing in an airtight container at room temperature.