Dried Fruit Compote
January 4, 2021
One of the reasons for our giving up our "real" jobs to take over Pen-y-bryn Lodge in 2010 was to allow us to pursue our passions. For James B, that meant being able to spend his days gardening and taking care of and renovating the house, but for James G it meant indulging an interest in cooking (as well as photography). Tomorrow will be the 11th anniversary of our first visiting Pen-y-bryn and Oamaru, so it seems like a good opportunity to embark on a new means of sharing some of what we enjoy even beyond the confines of the lodge by sharing some of our most popular recipes on our website.
This dried fruit compote has been a part of our breakfast selection since we welcomed our first guests in August 2010. There is no question that it's delicious (I first encountered the dish while staying in a small hotel in Istanbul in the early 1990s, and frequently returned to that hotel over the years largely because of it), and it has also been our most-requested recipe by far. Luckily, it's also very easy to make and extremely flexible–use the fruit here as a guide and change it up to suit your own preferences. There is also no reason to limit it to the breakfast table–it's just as delicious on vanilla ice cream as it is on yogurt and muesli!
Dried Fruit Compote (Hosafi)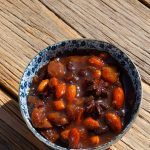 Most of the time is unattended–the soaking of the dried fruit can even be done overnight if you prefer. Just be sure to keep an eye on the cooking to make sure there is enough water to prevent the compote from becoming too thick or burning. Feel free to scale the recipe up or down, adjusting the amount of fruit but keeping the proportion of sugar, honey and spices consistent.
160 grams dried apricots (cut up, if desired)
150 grams dried figs (stemmed and cut up)
75 grams sultanas (can substitute golden raisins)
85 grams dark raisins
115 grams pitted prunes (cut up)
150 grams raw whole almonds (can use blanched if preferred, or slivered, or sliced)
boiling water (to cover the fruit, plus additional as needed)
400 grams sugar
6-8 whole star anise
165 grams runny honey
Place all the dried fruit in a bowl and cover with hot water. Cover the bowl and allow the fruit to rehydrate for about an hour.

Pour the water and dried fruit into a medium-sized pot and add more water if needed to cover the fruit by 2.5 cm/1 inch. Add the sugar and star anise and bring the contents to a simmer over medium heat, stirring occasionally.

Once the contents are nearly boiling, reduce the heat to medium-low and simmer for an hour, uncovered, stirring periodically. After an hour stir in the honey and almonds and take the pot off the heat and allow to cool.

Pour the cooled compote into a jar and store in the refrigerator for up to three months. For ambient storage, you can seal the compote in sterilised jars using the same procedure for sealing jam.
The fruit used can be adjusted to suit your own taste (or what you have handy). Just try to keep the total weight of fruit to around 600 grams.