Booking your stay with us
January 31, 2020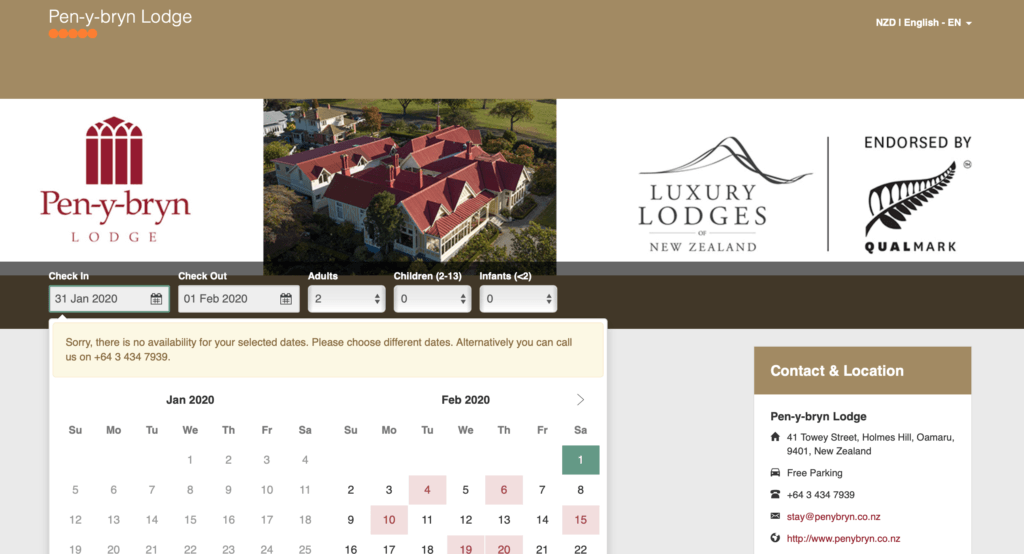 Many guests ask us what is the best option for making a booking to stay with us at Pen-y-bryn, so we thought we would post here to offer some guidance.
Of course, our preference is for you to book with us directly through our booking site or by phoning us. That way we can be sure to have a means of tailoring your stay with us to suit your needs, and we can provide you with guidance for how to reach us from wherever you may be coming from, including recommending things to see and do on your way here. We can also ask about booking excursions or other activities while you are here, whether it's tickets for the Oamaru Blue Penguin Colony (which is often sold out by the time guests arrive during the height of the summer) or massage treatments at our affiliated spas. And if you are dining with us, we can collect accurate information on your dietary requirements so we can prepare a suitable menu for you.
Next best is to use your preferred travel agent. Many agents have direct access to our availability calendar and see at a glance what rooms we have available and when (this is the same calendar that the link above opens). They are also able to help resolve problems that may arise during your visit to New Zealand, from rerouting you in the event of a road closure or weather issues, and providing you with tickets to a range of activities throughout the country. They can also often bundle airline tickets, car hire and other ancillary services with your hotel bookings. If you do opt to use a travel agent, we encourage you to use one who is a New Zealand specialist, since agents without local knowledge can sometimes recommend routes that involve longer-than-ideal drive times between destinations, or excessive retracing of steps to get from place to place. There are many reputable travel agents out there, located throughout the world. If you are not a native English speaker, they can provide you with driving instructions and area information in your language, too, which makes things much easier for you when you arrive in New Zealand.
The last choice, in our view, is to use online travel agents. Not only do they not offer the best value, but they rarely offer any sort of customer service should something go wrong during the course of your travels. More than once we have encountered guests who booked another location through one of these companies, only to have the hotel report that they were double-booked, or closed, or otherwise unable to accommodate the guest, or worse, did not live up to the description on their listing. Often there is no recourse for you to resolve the issue, so unless you have travel insurance, you may wind up paying twice for the night's accommodation.
We hope this information on choosing the best option for making a booking at Pen-y-bryn is useful for you. If you have any about visiting us, or about your visit to New Zealand in general, please feel free to contact us, we are always happy to offer advice.