Stargazing Special 3-Night Package
August 27, 2017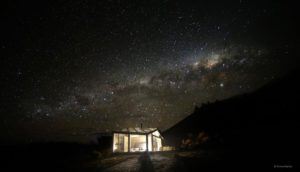 We are very excited to offer a special package in conjunction with our friends at SkyScape Sky Beds in the nearby Mackenzie Country. Combine a stay at Pen-y-bryn with a one-night stay under the stars in your own private luxury accommodation at SkyScape for a chance to see the night sky in all its glory. SkyScape is a one-of-a-kind destination, where you will enjoy peace and tranquility as you marvel at the sheer number of stars visible above you. This special package includes the following:
Two nights at Pen-y-bryn in one of our superior suites (Garden, Nest or Park Room)
One four-course gourmet dinner for two on your arrival night
Introduction to the southern sky at Pen-y-bryn (conditions permitting)
Astrophotography lesson at Pen-y-bryn (conditions permitting)
Dinner provisions for your stay at SkyScape
Price per couple: NZ$2400
To make your booking, contact us by email on stay@penybryn.co.nz with your desired nights and we will respond to confirm availability. To take best advantage of the night sky, this package is available in the months of September, October, March, April and May only. Additional nights at SkyScape can be added, subject to availability, for NZ$550 per night. Not suitable for children under the age of 16.
Rates include NZ GST of 15% and are subject to availability. While every effort will be made to ensure that this package is offered as described, changes due to weather or other conditions beyond our control may result in last-minute changes.