Re-opening Under Level 2
September 6, 2021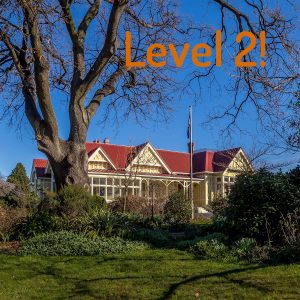 With the announcement today that the country south of Auckland will return to Level 2 at midnight on 7 September, we will be able to receive guests again starting the next day, Wednesday 8 September. Of course, we will do so in conjunction with the restrictions associated with this new version of Level 2, so the following restrictions will apply:
Guests of parties in separate "bubbles" will receive their pre-dinner drinks and canapés in separate areas of the Drawing Room and/or separate rooms of the lodge;
Guests in separate bubbles will also be seated at separate tables in the Dining Room for dinner (if part of their booking) and breakfast;
Guests wishing to use the Fitness Room are asked to book a fixed time slot so that we can sanitise it between guests and so that guests in separate bubbles do not use it at the same time.
Together we can make travel under Level 2 as painless and trouble free as possible, and we appreciate your understanding as we all work together to make this work for everyone.