Oamaru on Fire Sets Town Alight
June 1, 2014
For the third year running, the Queen's Birthday weekend in Oamaru kicked off with a bang with the Oamaru on Fire festival. This nighttime event takes place in the historic centre of Oamaru on Harbour Street, with all sorts of fire-related performers, pyrotechnics, and other festivities, together with live music, food, drink and just plain old good fun.
It seems like each year's edition of this event is bigger and better than the last. This time, one of the highlights was a 3-D mapped projected video on the façade of the Oamaru Whitestone Civic Trust building, which turned the normally sedate building into a real show-stopper.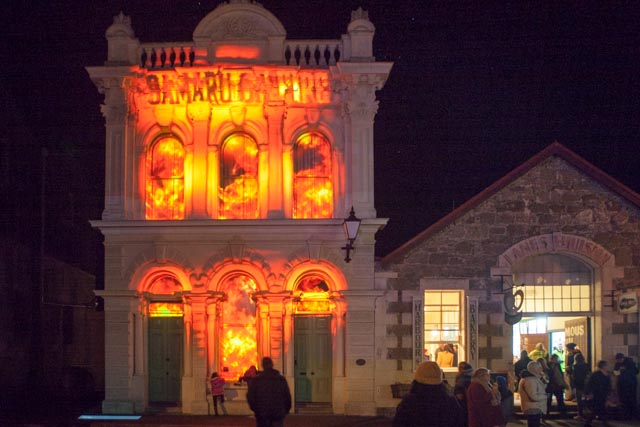 Other highlights included the sight of countless visitors in Steampunk finery meandering among the stalls and attractions (since this weekend also finds Oamaru hosting the annual New Zealand
Steampunk Festival), the chance to try some of Oamaru's tastiest morsels from numerous vendors who set up on the street, and then the firing of a World War Two howitzer to signal the end of the event and the beginning of the celebratory fireworks display.
As luck would have it, for the third year in a row, the weather was simply perfect for this event–in fact, the whole weekend enjoyed fine weather with daytime temperatures comfortably in the low teens, together with crisp clear nights with stunning displays of stars. Plan to be here next year when Oamaru on Fire promises to be even bigger and better still!
For a look at some photos from the event, take a look at the gallery on our Facebook page, but here is a teaser: