2015 Gingerbread House Unveiled!
December 20, 2015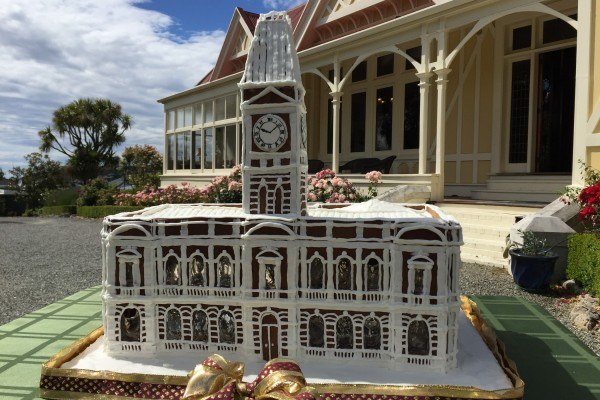 Every year since 1997 we have created a gingerbread house as part of our holiday decorations, generally modelled on an architectural marvel that we visited during the year during our own holidays. Since this year we did not take a holiday (devoting the time instead to work on expanding our Annex rooms), we decided to model this year's house on an Oamaru building. This means that Oamaru is the first city in the world to have had two buildings represented in gingerbread (we did a gingerbread Pen-y-bryn Lodge in 2010), so take that Paris, Moscow, Beijing and Brugge, each of which have had only one building receive this honour!
The model this year was the Waitaki District Council headquarters, built in 1883 as the Oamaru Chief Post Office. Designed by the firm of Forrester and Lemon, the same architects who were responsible for Pen-y-bryn itself, the building is one of the most dramatic in Oamaru (a town with more architectural treasures than just about any other place in New Zealand), and carries a Category One listing with Heritage NZ, just like Pen-y-bryn.
The gingerbread house is 100% edible, constructed of gingerbread dough, royal icing, pastillage (for the clock faces) and caramel. Nonetheless, the gingerbread house will not be eaten. Instead, after sitting on display in the lodge drawing room for the duration of the holidays, it will later be moved to a local cooking supply shop before being discarded.
If you're interested in seeing previous years' gingerbread constructions, please visit this gallery.